Listening to the delayed, then delayed, then delayed again Blonde, I'm stopped at a Phillips 66. As I fill up my pearl white Kia Soul, the music's somewhere between the tropical slow-jam of "Skyline To" and the buoyant strumming of "Nights." Once I hear a "KA-CHUNK" I re-rack the nozzle and walk inside to get a drink. The cashier says something that is obscured, so I take off my headphones and ask "what?" He dutifully asks if want my receipt. I say "no," and now he's the one asking "what?" I take stock of the room and realize he's sitting on a blue milk crate behind the counter. He's staring at his phone and listening to Blonde too, his face is obscured by a lottery scratcher display. I say "I'm good on a receipt, you listening to Frank?" He peeks up and I see a pair of what look like Ray-Ban Clubmasters tracing his thick eyebrows. He says "yeah" through a chuckle, I say "me too" and then I walk, grinning, back to my car to continue listening.
After more than four years since the towering Channel Orange, and an assortment of those aforementioned delays, Frank Ocean fans aren't going to let something as mundane as their daily routine get in the way of this record. They waited. And waited. And waited. And waited some more. They started to question if Frank Ocean was even real or just a figment of our collective imagination. There was the initial "woodshop" stream the week of Aug. 1 that had more than a few people staring at a screen. Actor Jay Versace best summed up the anxiety then by shrieking and shaking his head "this album better not be ass." But those shrieks eventually turned to silence and there was the sliver of hope for a November release or the resignation to "never." Frank was just gonna stay on his own time and keep everyone waiting.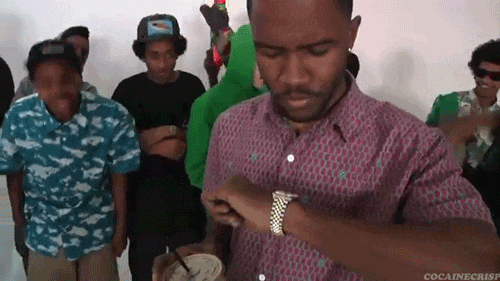 Of course the wait is over now. And though it sounds hacky, corny, cliché, or just downright dopey to say: The wait for this was worth it. Hell the cinematic wonderland of the "Nikes" video, with its dancing devils and rapping chihuahuas, could be rationalized as being "worth it." But there's so much more than that. There's the visual album Endless that still merits a listen because its rough hew is so hypnotic. Can't forget the glossy Boys Don't Cry magazine, replete with Kanye poems about McDonald's and Lil B interviews, currently retailing for as much as $1000 on EBay. (And the CD contained within that has an entirely different tracklist.) And Blonde, a towering accomplishment from someone who already has towering accomplishments on his musical CV.
If Kanye West was "popping wheelies on the zeitgeist" a few years back, what the hell is Frank Ocean doing with Blonde? There's the temptation to say he's ignoring it entirely, but that doesn't feel right. Dude's got Beyoncé, Kendrick Lamar, Swedish rapper Yung Lean and indie-pop guitar darling Alex G on it, so he's clearly been keeping tabs on what's been going on since Channel Orange rerouted what R&B could look and sound like in the 2010s. But if he's watching the zeitgeist, he's watching from afar. He's peering at it with winged eyeliner from the dashboard of a McLaren F1 GT that's parked at the top of a hill on an island in the clouds.
https://embed.itunes.apple.com/us/embedded-player/idsa.06571398-669c-11e6-9b66-283cdffd1e01
As a roll-out to the album and the opening track, "Nikes," and its accompanying video, couldn't be better representatives of what Ocean is attempting to communicate with Blonde. They're sprawling and slightly messy, but self-contained. They're love-struck and lovelorn. Proudly black while somberly cognizant of how often that blackness is jeopardized by those who see it as a threat, "RIP to Trayvon." The pair work to define Ocean as a man, as well as a human. They ambitiously reckon with what it means to be an artist (particularly one with the expectations of Ocean). Both attempt to find meaning inside and outside of relationships, "We're not in love, but I'll make love to you." When all of the Auto-Tune is stripped away and Ocean croons "We gon' see the future first," it's entirely believable. "Nikes" cut-and-paste approach to lyrical and musical themes isn't kin to much in 2016, save for fragments of The Life of Pablo.
Being love-struck and lovelorn, two of those main lyrical themes, are wells Ocean repeatedly traipses back to in idyllic fashion. In "Solo" he's vocally skittering all around a minor-key organ figure, gone off weed and sex in the Windy City, but realizing none of this shit can last long. With "Ivy"'s opening salvo: "I thought I was dreaming when you said you loved me," you have distilled melancholia delivered over a circular, muted guitar part. That first dose of love to the blood stream is euphoric, then the withdrawal inevitably occurs.
And nothing is jonesing for "what was" as much as "White Ferrari" which will leave anyone with tear ducts misty-eyed. Gently kissed by wafts of synthesizer, Ocean sings "had a good time" as though that is convincing anyone such bargaining is a comfort. There are some wounds that will never heal. Scar? Sure. But there'll always be a mark left, acting as a painful reminder of the past that no positive affirmation can bandage.
The causes of the wounds are numerous. "Facebook Story," featuring electronic artist SebastiAn, can be traced to an increased technological dependence in our social media age. Though a tad smarmy in tone, SebastiAn wearily recalls "she wanted me to accept her on Facebook, and I don't want it because I was like in front of her. And she told me like: 'Accept me on Facebook,' it was virtual, made no sense." Along with James Blake's "Put That Away and Talk to Me," from The Colour in Anything (which Ocean worked on), "Facebook Story" effectively makes the case for how "unsociable" social media can make us. A heart on a well-crafted post of ours starts to illicit the same emotional response as a soft kiss in bed at 3 a.m.
On the all-too-brief Fender Rhodes inflection of "Good Guy," the damage is done by a dude who doesn't text "like you look." Ocean sounds ebullient heading in to a gay bar for the first date, but quickly deflates. There's an imbalance in communication and a fundamental lack of understanding about what this night is supposed to be, "To you it's just a late night out" he asserts. That misunderstanding can be so wearying because it's easy to overestimate the importance of such an event. Expectations created by romantic love, or notions of romantic love, can often lead to disappointment.
Literal wounds are considered on Blonde as well. "So low that I can admit, when I hear that another kid is shot by the popo it ain't an event, no more," André 3000 raps on the dizzying reprise of "Solo." For 3k, any shooting now is just another in an assembly of police failings that disproportionately affect African-Americans. And while he also notably takes ghostwriting in hip hop to task, it's the initial salvo that cuts the deepest. It's proof, on a personal level, that enough injuries can leave you totally numb. At a certain point, blood spilled isn't enough to make your blood run cold.
Blonde seems to posit that deep, abiding connections can stave off such numbness. "This love will keep us still blinded of the eyes, silence in the ears, darkness of the mind" Ocean sings on the watery gospel tune "Godspeed." There's an eternity to love that Ocean knows can't be stemmed or altered by much of anything. Appearing almost right after "White Ferrari" it's a sort-of corrective, a recognition that the marks left might well be painful, but can bring back beautiful memories. Like when Tyler, the Creator used to crash on his couch or when Ocean used to walk dogs and mow lawns in New Orleans' 7th ward. Occasionally the smallest moment evokes much larger emotions.
Both moments come from "Futura Free," a sprawling nine-minute track at the end of Blonde where the keys and synths in the first half continually surge. Under a veil of pitch-shifted vocals, Ocean recognizes "I'm just a guy, not a god." He's a guy with the audacity to bring in Queen Bey and Kendrick Lamar and use them in "bit parts." But he's also a guy with the humility to thank "those of you who never let me forget I had to finish." He's a guy, clearly influenced by Prince's own work, subverting outmoded notions of masculinity by talking about his balls while using a Camille-like vocal filter in the same song. He's a guy that people are willing to wait on, impatiently at times, because of his prodigious talent. He's not a god, and Blonde isn't the urtext of music, but there are infinities contained within both. "How far is a light year?" Not nearly enough time or distance to explore everything here.
(Blonde is currently streaming on Apple Music and available on iTunes.)